With Tottenham and Wembley due to go their separate ways in the New Year, this felt like a 'soak it up' occasion. "Glory, glory...
With Tottenham and Wembley due to go their separate ways in the New Year, this felt like a 'soak it up' occasion.
"Glory, glory, Tottenham Hotspur" bellowed out pre-match in memory of the late Chas Hodges - one half of Chas and Dave. The creative talents on show on the pitch would have been appreciated by him looking down.
The atmosphere soared under the Wembley lights, helped by a quite scintillating football match.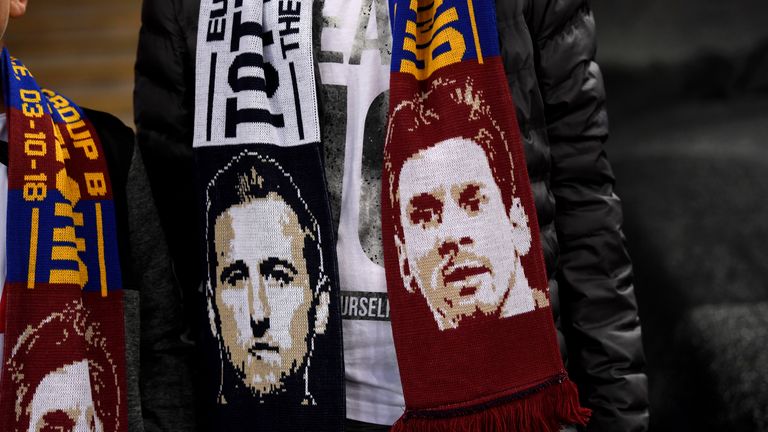 Half and half scarves at Wembely
Whether you agree with their temporary base being at Wembley or not, there is something special about Tottenham's Champions League nights at the national stadium, especially when a giant is in town. It felt like all of London was after a ticket for this one. Instead of heading up west, the entertainment was north. No-one was shortchanged.
The action ebbed and flowed. Counter attacks, desperate tackles, deflected shots, slick skills, posts being hit - this game had it all.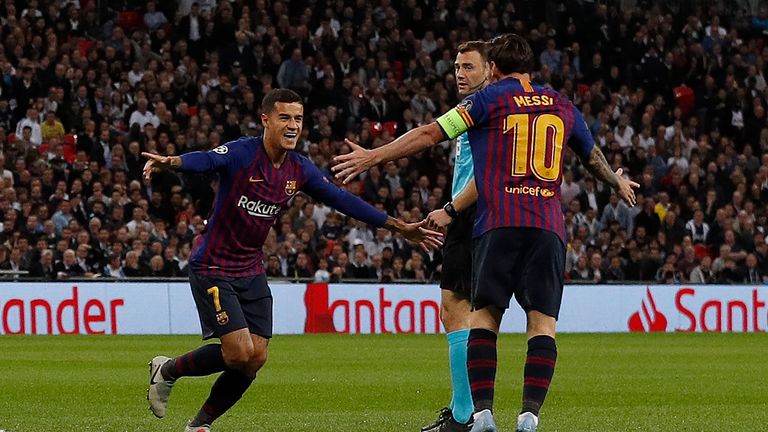 Philippe Coutinho celebrates scoring for Barcelona
Pre-match, the Metropolitan line was crammed full of Tottenham and Barcelona fans, mingling to purr over the prospect of watching Lionel Messi up close. There was genuine hope, too, in Tottenham ranks, that this Barcelona side were very much beatable despite the presence of Messi.
The Lionel Messi Show
Sometimes you can only stand and admire the opposition. Having just seen their team suffer a 4-2 defeat to leave their Champions League hopes on the line, the Spurs fans stayed to clap and cheer their team off - they knew their players couldn't have done much more.
Unfortunately, they bumped into a player that doesn't play the same game. This was Messi turning in one of the great Champions League performances on a stage worthy of his super-human talent.
Every attack Barcelona conjured up was instigated by their main man. He finished two of them himself - taking his tally to five goals in two Champions League games this season - and if we're being slightly critical, he should have at least claimed a hat-trick but he became very fond of a certain part of the Wembley woodwork, hitting the same post twice in almost identical fashion within the space of a few minutes.
After losing Xavi and Andres Iniesta, there has been talk of the Spanish champions becoming too overly reliant on Messi. Even to such an extent that they potentially could change their style. Thank goodness they haven't.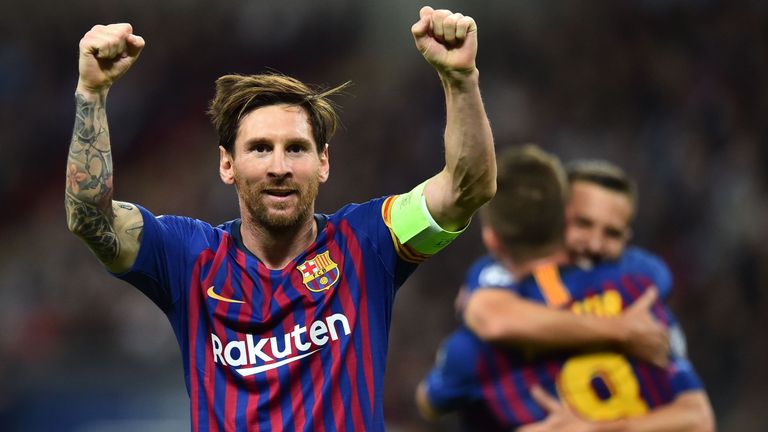 Lionel Messi put Barcelona 3-1 up immediately after Harry Kane's goal
Did Poch get it wrong?
There were a few gulps in the home end when the teams were announced at Wembley.
The regular midfield three of Mousa Dembele, Christian Eriksen and Eric Dier were all missing from the starting XI. Dembele was substituted at half-time of Tottenham's 2-0 win over Huddersfield Town on Saturday with an injury, Eriksen had a stomach problem and Dier - maybe not comfortable playing in a two-man midfield - was dropped to the bench.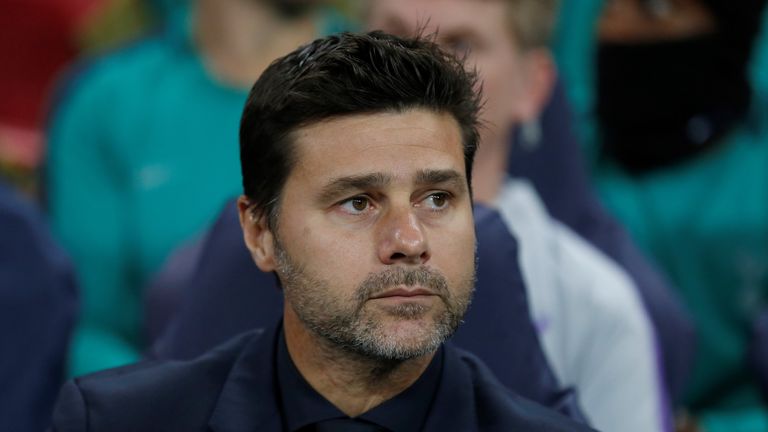 Mauricio Pochettino said the first goal "killed" his gameplan
It was Harry Winks and Victor Wanyama that were tasked with the job of setting the tone from the middle - two players that have missed over 12 months of football between them because of various knee and ankle injuries.
Having to cope with Ivan Rakitic and Sergio Busquets, plus a roaming Messi was all too much for the pair, especially Wanyama, whose 73.3 per cent passing accuracy doesn't read well for a game of such magnitude and dripping in quality.
In comparison, his opposite number Busquets successfully completed every one of his 67 passes. Perfection.
With just 52 minutes of Premier League football under his belt this season, this was a big gamble throwing Wanyama in against the elite.
His lack of match practice showed. Wanyama lost possession with his first touch which ultimately ended with the opening goal, finished off by Philippe Coutinho after some horrendous decision making from Hugo Lloris.
That early wobble affected Spurs' confidence with the ball at the back - a key philosophy of Mauricio Pochettino's way of playing. Davinson Sanchez and Toby Alderweireld looked torn between using Winks and Wanyama and going long, which resulted in Barcelona being provided excellent possession in the final third due to Tottenham's sloppiness.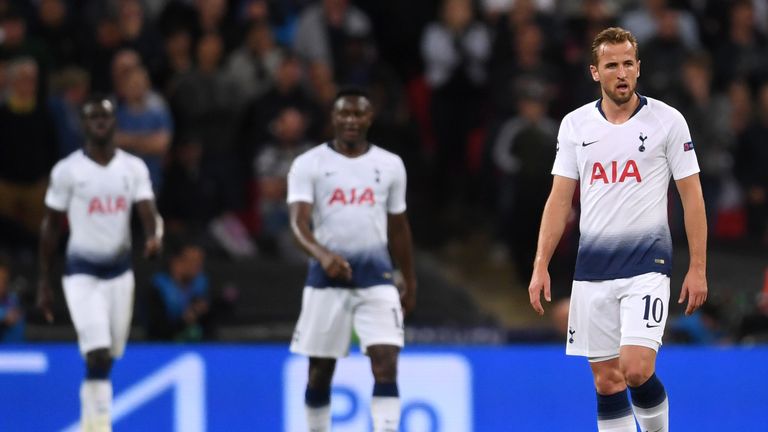 Tottenham struggled to keep up with Barcelona's passing game
Rakitic's excellent strike for the second goal stemmed from a misunderstanding between Wanyama and Sanchez. Types of mistakes you can get away with against most teams on the planet - but not a Messi-led Barcelona.
Winks improved as the game developed, but on a booking, Wanyama was replaced on 55 minutes by Dier. He'll be waking up in cold sweats over this performance.
Should Dier have started instead? Pochettino said he had no regrets over his team selection, putting significant emphasis on the early Coutinho goal which "destroyed the plan" and obviously knocked the confidence of his team.
But early goal or not, Spurs were not the same animal without Dembele's presence and Eriksen's energy and guile.
They will need them back for the final four Champions League encounters, including the two very winnable back-to-back games against PSV.
But three wins could be required to keep the possibilities of European nights like this alive this season. The memories of this Champions League clash won't be forgotten in a hurry.